Burr!  It's getting cold out there, which means it's time to curl up with a good book and try to stay warm.  We can help you with that!  A few bloggers have created the Fire & Ice Blog Hop.  It will be a fun way to celebrate Fiery Hot Reads for Icy Cold Nights.
Hosts:
Heidi @ Rainy Day Ramblings
Kimba @ The Caffeinated Book Reviewer
Veronica @ Mostly Reviews
Christy @ Love of Books.
We are going to feature great authors and/or books with guest posts, interviews, excerpts, and best of all… GIVEAWAYS!
This will run from January 28th to March 1st, with multiple stops everyday.
How to Join:
Pick a date you want to post.  E-mail the host that is in charge of of that date & let them know which author and/or book you are going to feature.
On your date, post the guest post, interview, excerpt, or your own post about a b0ok.  This is a hop, so a giveaway is a good idea.
The overall theme is romance, but really, any fictional genre (paranormal, fantasy, contemporary, etc.) you love will work.  Tell us why you love it!  Is there a couple you like, a swoon-worthy character, or what?
Sorry, no erotica.
Authors and publishers interested can also e-mail one of the hosts.
Who to Contact:
Week 1:  Jan 28 – Feb 2nd ~ Heidi @ rnydayramblings@gmail.com
Week 2:  Feb 3rd – 9th ~ Cambria @ cambriahebert@rocketmail.com
Week 3:  Feb 10th – 16th ~ Christy @ loveofbooks-blog@yahoo.com
Week 4:  Feb 17th – Feb 23rd ~  Kimberly @ kimbacaffeinated@gmail.com
Week 5:  Feb 24th – Mar 1st ~ Veronica @ mostlyreviews@hotmail.com
______________________________________
There will be a page for the event with the entire schedule up soon.
Grab a button below.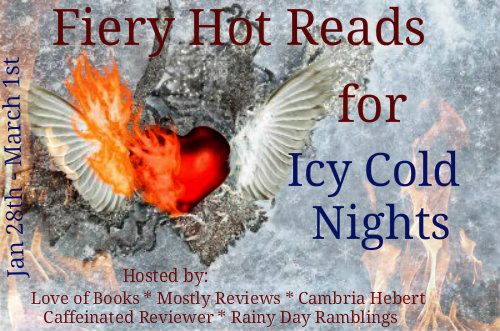 <div align="center"><a href="http://cambriahebert.com/fire-and-ice-blog-hop/" title="Cambria Hebert" target="_blank"><img src="http://i1087.photobucket.com/albums/j467/cambriahebert/flamingheartBanner_zps2dd369c4.jpg" alt="Cambria Hebert" style="border:none;" /></a></div>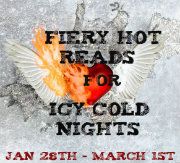 <div align="center"><a href="http://cambriahebert.com/fire-and-ice-blog-hop/" title="Cambria Hebert" target="_blank"><img src="http://i1087.photobucket.com/albums/j467/cambriahebert/flamingheartbutton.jpg" alt="Cambria Hebert" style="border:none;" /></a></div>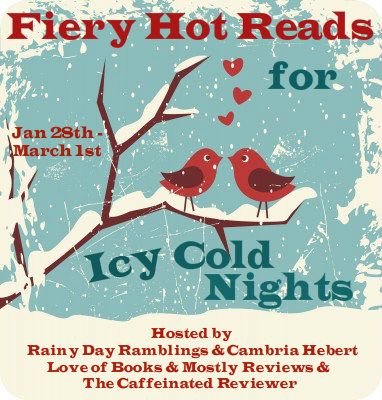 <div align="center"><a href="http://cambriahebert.com/fire-and-ice-blog-hop/" title="Cambria Hebert" target="_blank"><img src="http://i1087.photobucket.com/albums/j467/cambriahebert/Bigbanner.jpg" alt="Cambria Hebert" style="border:none;" /></a></div>
<div align="center"><a href="http://cambriahebert.com/fire-and-ice-blog-hop/" title="Cambria Hebert" target="_blank"><img src="http://i1087.photobucket.com/albums/j467/cambriahebert/BirdButton.jpg" alt="Cambria Hebert" style="border:none;" /></a></div>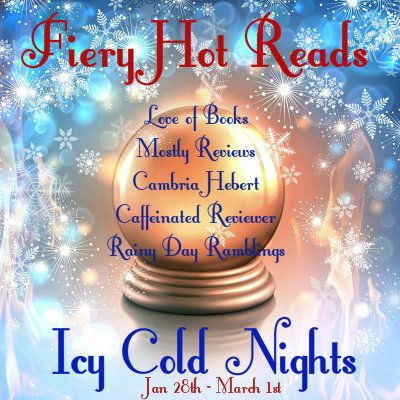 <div align="center"><a href="http://cambriahebert.com/fire-and-ice-blog-hop/" title="Cambria Hebert" target="_blank"><img src="http://i1087.photobucket.com/albums/j467/cambriahebert/FieryReadsBanner_zps7bb9e665.jpg" alt="Cambria Hebert" style="border:none;" /></a></div>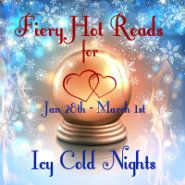 <div align="center"><a href="http://cambriahebert.com/fire-and-ice-blog-hop/" title="Cambria Hebert" target="_blank"><img src="http://i1087.photobucket.com/albums/j467/cambriahebert/Snowglobebutton.jpg" alt="Cambria Hebert" style="border:none;" /></a></div>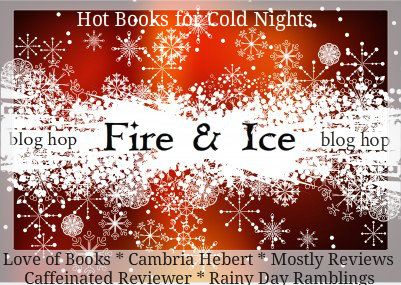 <div align="center"><a href="http://cambriahebert.com/fire-and-ice-blog-hop/" title="Cambria Hebert" target="_blank"><img src="http://i1087.photobucket.com/albums/j467/cambriahebert/FireandIceBanner.jpg" alt="Cambria Hebert" style="border:none;" /></a></div>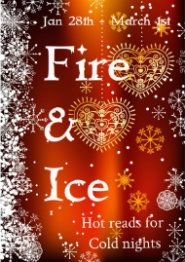 <div align="center"><a href="http://cambriahebert.com/fire-and-ice-blog-hop/" title="Cambria Hebert" target="_blank"><img src="http://i1087.photobucket.com/albums/j467/cambriahebert/FireandIceButton_zps151c23d6.jpg" alt="Cambria Hebert" style="border:none;" /></a></div>